One Small Step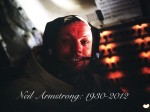 The first man to step on an other-worldly body has died. Neil Armstrong, the first man to set foot on the moon is gone.
I am and always will be a space-nut. I watch Nasa-related television shows all the time; including those long boring ones whose picture quality is terrible.
"Honor his example of service, accomplishment and modesty, and the next time you walk outside on a clear night and see the moon smiling down at you, think of Neil Armstrong and give him a wink."
Read more about Neil Armstrong's passing at Fox News.