Tolwyn's Roland D-50 Synthesizer For Sale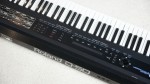 I got this keyboard in 1987. It is in like-new condition and in all my research on eBay, Sweetwater, and elsewhere (considering the condition it's in) it is worth it's weight in gold (well, you know).
Read about the Roland D-50 on Wikipedia.
It's been used in a smoke-free recording studio (and also the keyboard used in the recording of Pointed Sticks: All Quiet on the Western Front.
No spills, no crashes, no tips, well-cleaned, all faders work fine, and this includes 4 "Memory" cards (3 factory and 1 3rd party).
For the past 10 years, it's been covered and used as a triggered sound module. Includes cables, manual, memory expansion cards, HARD case, and "Cover your Axe" cover.
$800 shipped to anywhere in the United States.
This price includes the much soft-after ROM cards (4 included), hard-case, etc.